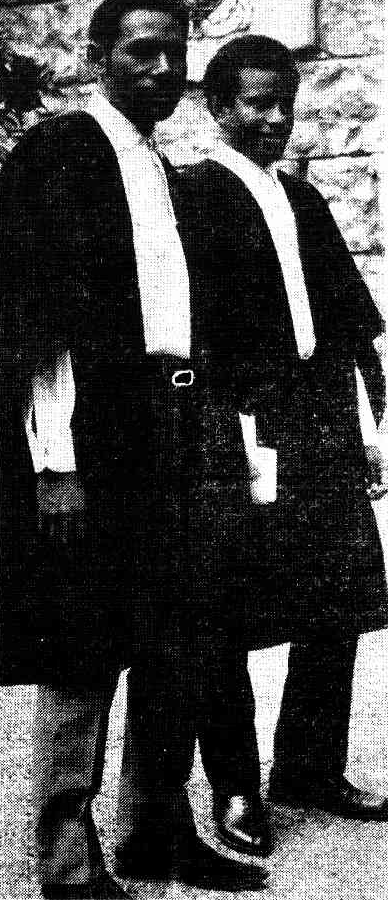 Ever wondered who were the first indigenous lawyers to graduate from the University of Papua New Guinea? We've done a little digging up and here's what we found.
In 1972, two local lawyers were admitted to the Bar. They graduated from the University of Papua and New Guinea (as it was called then). The two gentlemen were Mr Ilinome Frank Tarua of Kwato, Milne Bay District, and Mr Kubulan Los of Madang.
As you can imagine, this was a very special occasion for the individuals, their families, the territory and of course the legal fraternity.
Post Courier covered this momentous event and according to their report both gentlemen were welcomed at a reception in the Supreme Court, Port Moresby, on Tuesday 14, 1972.
At the time, Mr Tarua was employed by the Crown Law Department and Mr Los had just joined the Public Solicitor's office in Port Moresby. In describing that significant event, Post Courier reported that Port Moresby based lawyers "crammed in to the courtroom to see the two proud young men admitted to the Bar."
Their admissions were moved by the Secretary for Law, Mr Kearney and Public Solicitor, Mr Lalo.
Mr Justice Kelly in his welcome speech described the admissions as "a significant occasion in the legal profession in Papua New Guinea". 
Mr Justice Kelly said that both Mr Tarua and Mr Los were two of the first Papuan and New Guinean lawyers to receive training and admission in the Territory. Both were among the first group of Papuans and New Guineans to study law when the University opened in 1967.
Mr Los had a distinguished legal career and was appointed a judge of the National and Supreme Court of Papua New Guinea in 1983. Sir Kubulan spent 24 years on the bench and sadly passed away in 2012.
Mr Tarua became a senior legal advisor of the country's first Prime Minister the late Grand Chief Sir Michael Somare.