I take great interest in Papua New Guineans filing trade mark applications to protect their intellectual property. More and more individuals are starting to realize the importance of their intellectual property and even better taking that extra step to protect it.
One of the interesting finds in the course of our usual work this week is the application filed by Janet Yaki for the Papua New Guinea Stoma Association. The trade mark is a logo of the association. The application has been filed in Class 44 for: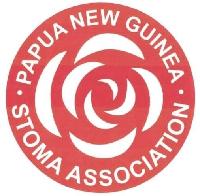 Providing medical Ostomy Appliances for Ostomates living with an Invisible Disability. a Stoma. Ostomy bags are: Ostomy Appliances are used to care for persons coming out of surgery with an Ostomy or a Stoma. They come in: Ostomy Bags: colostomy bags- large intestine, ileostomy bags- small intestine, urostomy bags – urine, Pediatric bags – children 1mnth to 5 year olds. Accessories such as: -belts hold the bags firmly incase bags fall off with weight when bag is full. A hernia belt is used when doing heavy duty jobs to stop having a prolapsed Stoma. – seals are put around the Stoma or the bag to stop leakage. -wipes are used to remove or wipe the adhesive around the Stoma before changing a new bag. – Stoma powder is used when an Ostomate has rashes on the skin around the Stoma. The bags are put over the Stoma to collect the uncontrollable flow of faeces or urine. A bag fills up within 3 to 5 minutes. These Ostomy Appliances are donated from Australia which are given to Ostomates in PNG at no cost to them. Belts are to support the bags from falling or incase of heavy duty jobs a Hernia belt is strapped around the waist.
There are two things that interested me about this application.
Janet Yaki
The name Janet Yaki rung a bell although I could not quite recollect exactly where I heard it. A quick search of Google put a name to the face.
About 5 years ago, I was fortunate to attend the Pride of PNG Awards for Women – an annual event hosted by City Pharmacy Ltd recognizing the incredible achievements of women that contributed immensely but often did not get the public recognition they deserve. "Unsung Heroes" is what CPL called them – a fitting description.
In 2014, Mrs Yaki was the awardee for the 2014 Care and Compassionate Category.
She is the founder of the Papua New Guinea Stoma Association, an association whose objective, amongst other things, is to raise funds to buy a colonscope or Endoscope and generally raise awareness about a type of cancer that attacks the digestive system.
You see, Mrs Yaki is Ostomate herself who now lives with a colostomy. When she was diagnosed with cancer of the colon at PIH, there was no colonscope to assist in establishing the extent of the cancer. She was referred to the Port Moresby General Hospital which had the only colonscope in the country. In an article by Lorraine Siraba, she said:
"This experience has greatly motivated me to do something to help others who have been made victims by the lack of adequate medical facilities in our public hospitals. The majority of our population who cannot afford to go to private hospitals are suffering and dying".
Lorraine wrote a very informative piece about Mrs Yaki and the work she does and you can read here.
Konio (Dai) Ikupu
The second interesting thing that interested me from a personal perspective was the word "Stoma". I am no medical doctor so such words are foreign to me but this caught my attention.
About a year ago, my cousin sister Konio was also diagnosed with the same disease. Every little detail as described in Lorraine's article about Janet's experience is so true because that is exactly the experience Konio faced. I know this because Konio stayed with me for a couple of months and regularly drove her to the hospital. The hospital visits were endless and I could tell the pain both physical and mental Konio went through.
Konio was an Ostomate who lived with a colostomy for about a year. She had surgery twice but could not take the third due to shortage of blood within her system. In the earlier operation, a stoma was formed on the outside of the abdomen to release waste. It was something I had never heard of let alone see the pain and agony that came with it.
The effect or growth of the cancer was rapid and aggressive for Konio. Excessive loss in weight was evident and she became so weak she could hardly walk. She lived with the cancer for just over a year before she succumbed to it last month – a day after her 39th birthday.
I commend Janet for her courage and strength and wish the Association the best in achieving the goals they have set out. Likewise, I hope those reading this post can also contribute to helping the association care for those that are affected by this dreadful disease.
Here's the link to the association's facebook page. https://www.facebook.com/pngstoma